PZPM - ACEA - EU - LCV, CV , BUS REGISTRATIONS - MAY 2020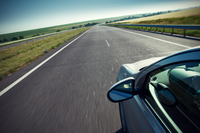 Commercial vehicles registrations: -36,7% five months into 2020; -44,4% in May
We present the ACEA report on registration of new passenger cars in the EU*
In May 2020, EU commercial vehicle registrations decreased by 44.4%, although the decline was less
pronounced than in April as measures to contain COVID‐19 were relaxed. Demand fell across all
commercial vehicle segments, contributing to the sharp decline recorded last month. Looking at the
four largest markets of the EU, Spain (‐59.0%) and Germany (‐47.9%) saw the biggest losses in May,
followed by Italy (‐36.5%) and France (‐35.0%).
Five months into the year, demand for new commercial vehicles in the European Union shrank
36.7%, owing to three months of steep declines. Each of the 27 EU markets posted double‐digit
percentage drops so far this year, with Lithuania (‐55.7%) and Spain (‐49.3%) showing the highest.